This week's User Success Story is taking us to paradise!
A new, RewardStock member just booked 2 flights to Bali for $87.86 + 150,000 points. By using reward points, they saved 99% off the cash cost of the trip! We can't wait to hear all about it when they get back.
Check out the full trip breakdown.
Trip Details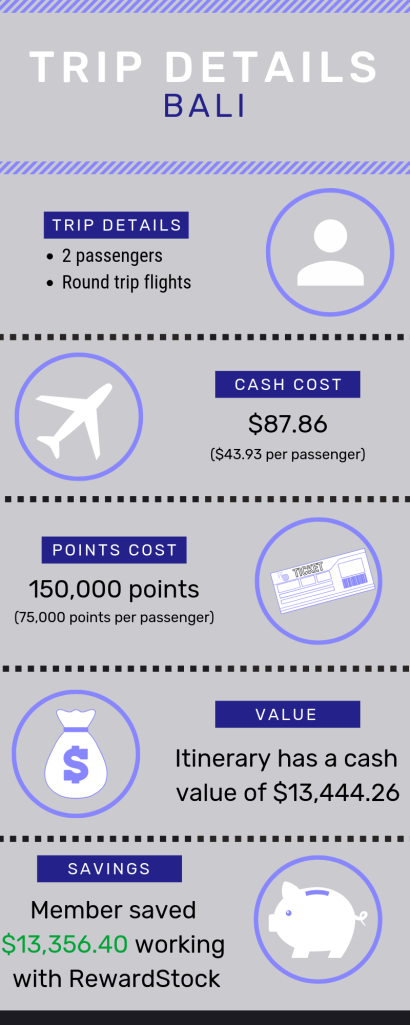 Reward Travel Lessons
You might be wondering why this itinerary has such a high cash value for 2 economy flights. That's because this member booked 4 one-way flights.
Airlines typically price one-way flights higher than round trip flights. The good news is that you are not required to book a round trip with the same airline. So if you have a mix of points with various programs, sometimes it makes sense to book one-ways.
They did not have enough points to book 2 round trip flights to Bali on the same airline. They did, however, have enough points to book 2 separate itineraries: 2 outbound and 2 return one-way flights for 2 travelers.
LAX > DPS
70,000 points + $11.20
(35,000 points + $5.60 per passenger)
DPS > LAX
80,000 points + $76.66
(40,000 points + $38.33 per passenger)
Traveling together is always important. Thanks to their diverse reward portfolio, we were able to keep the 2 travelers on the same flights! Here's another example when we recommended booking one-way flights.
Want to be our next User Success Story? We'd love to hear about your travel savings. Share your experience with the team and send a note to hello@rewardstock.com. Start earning the right points for your next vacation today. What are you waiting for? Signup for RewardStock!