Follow this step-by-step guide for navigating your hotel search results to meet your travel preferences.
Our technology sorts through all the possible search options to find the ideal combination of hotels and points for you. For this guide, we are searching for Amsterdam hotels in May 2019.
STEP 1: REVIEW HOTEL SEARCH RESULTS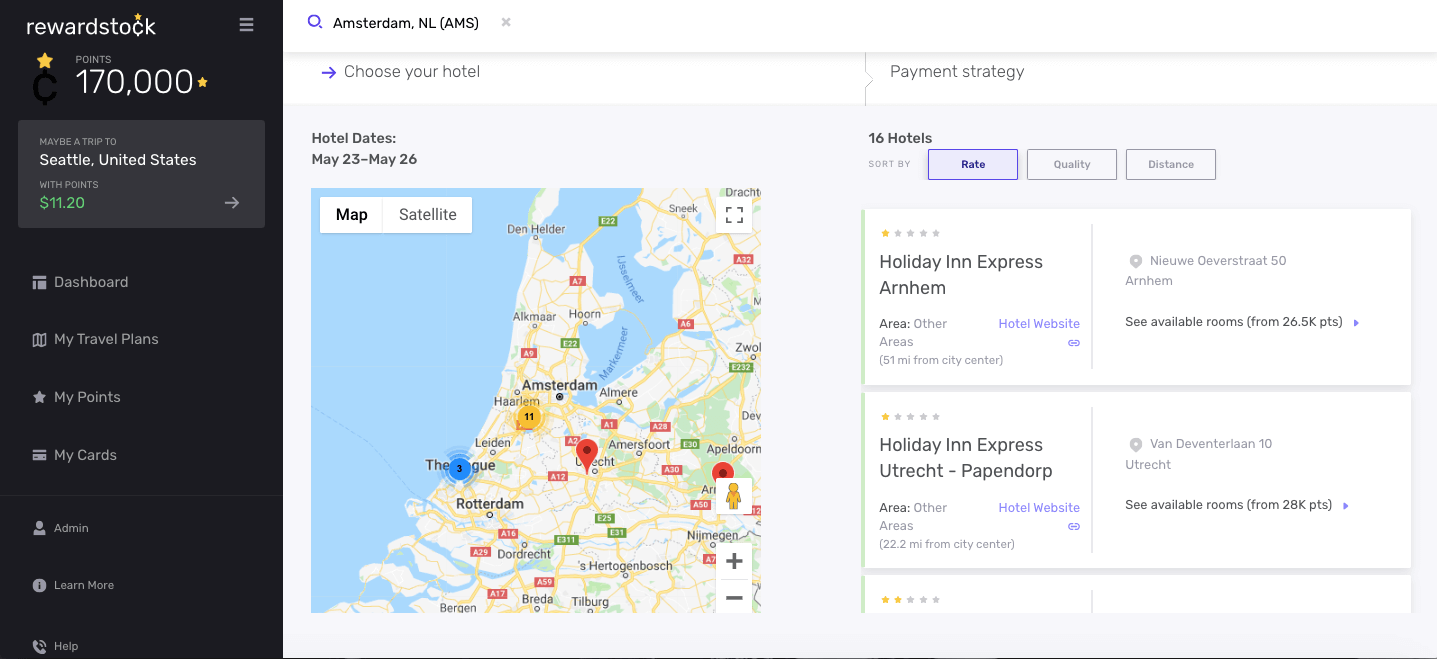 SORT HOTEL SEARCH RESULTS
Filter the hotel results to find the option that best meets your travel needs. There are three ways to sort your results: best rating, quality and distance from city center.
Rate

– sort hotels based on the points cost, with the lowest redemptions listed first.

Quality

– filter hotels based on star rating (1-5), with the 5 star hotels listed first.

Distance

– find hotels based on distance from city center, with the closest hotels listed first.
STEP 2: SELECT HOTEL
Select the hotel that meets your travel preferences.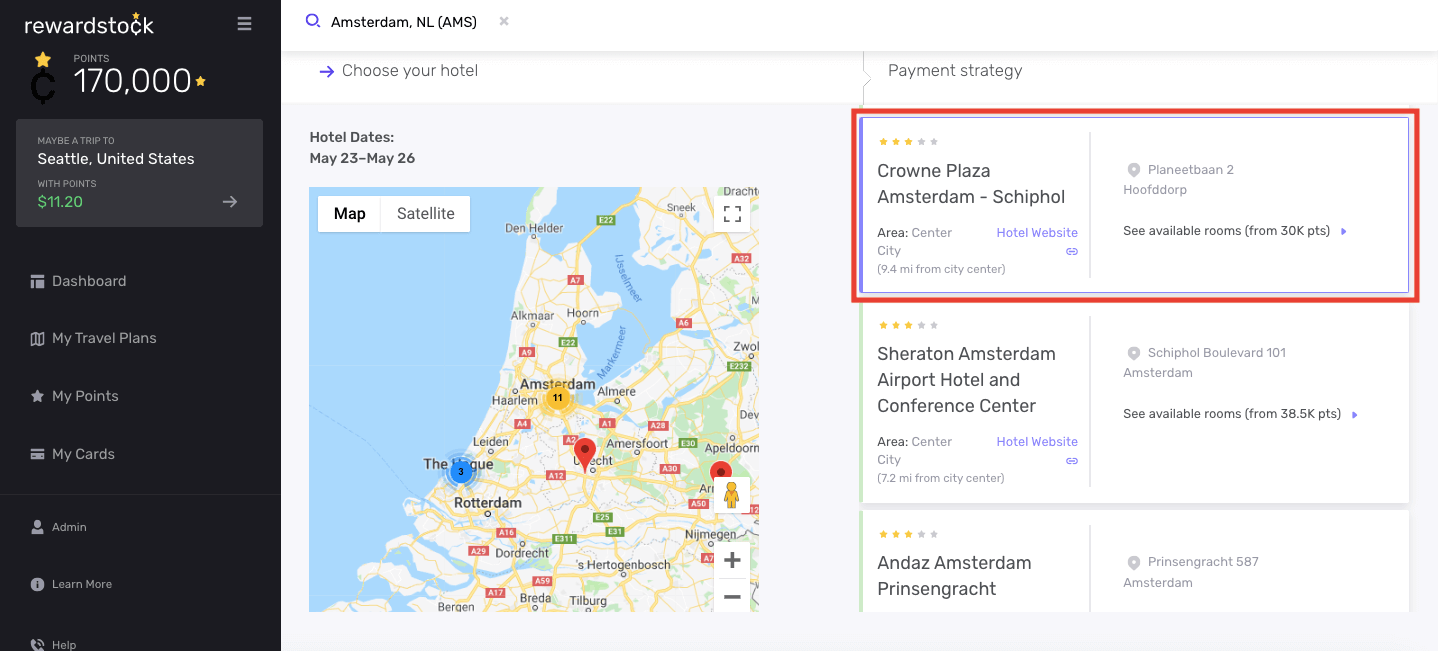 STEP 3: CHOOSE ROOM TYPE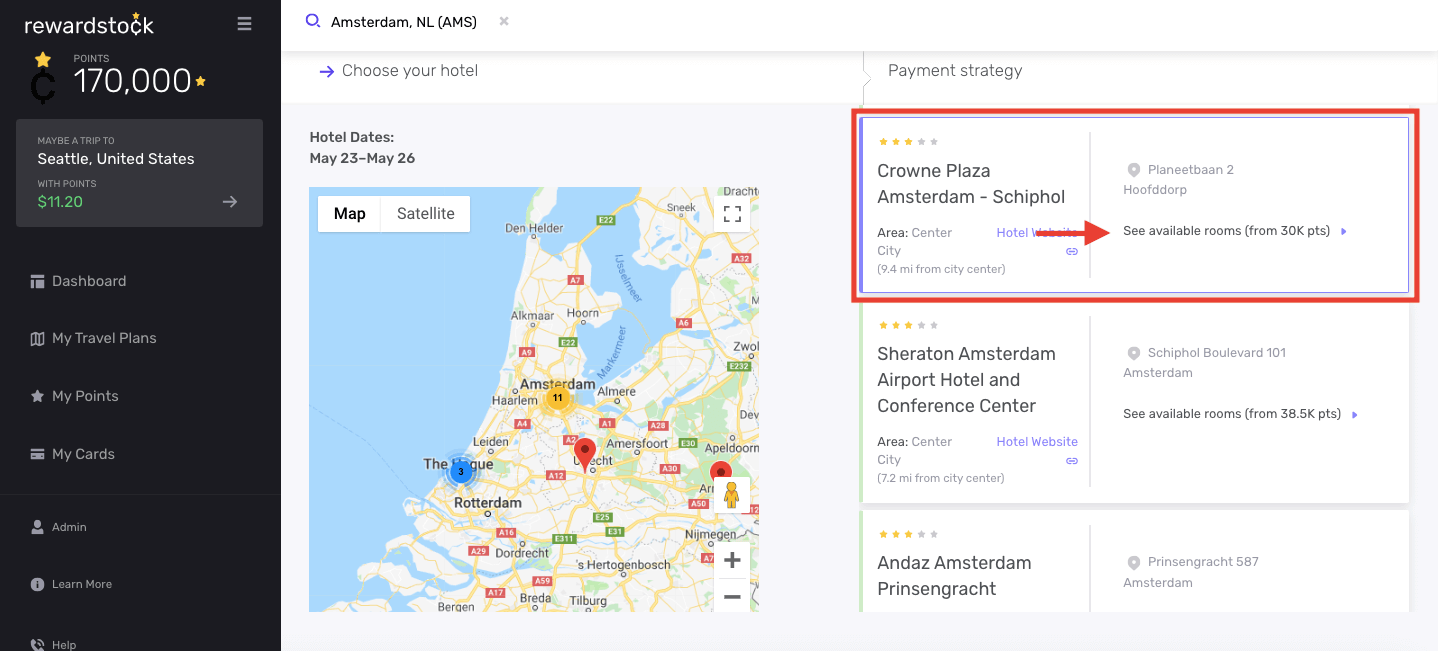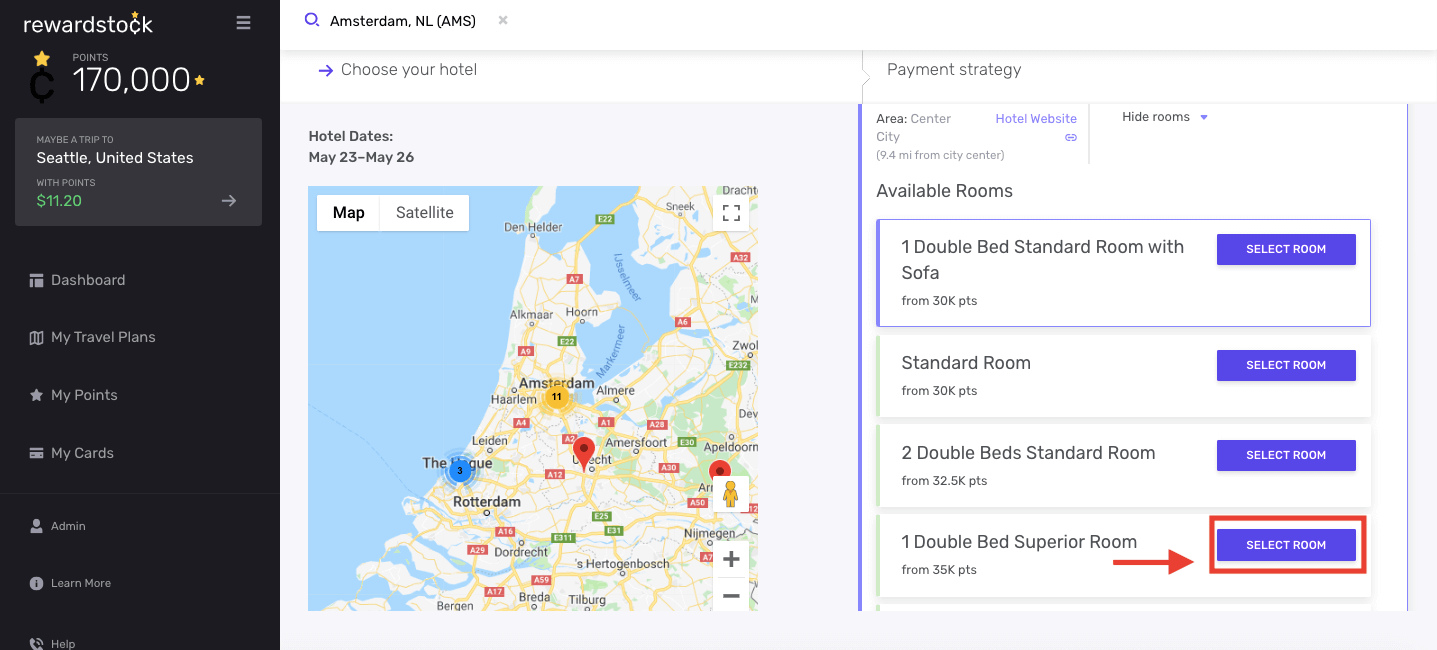 STEP 4: REVIEW HOTEL ITINERARY
Review the hotel details, check-in date, length of stay and roomy type for your new itinerary.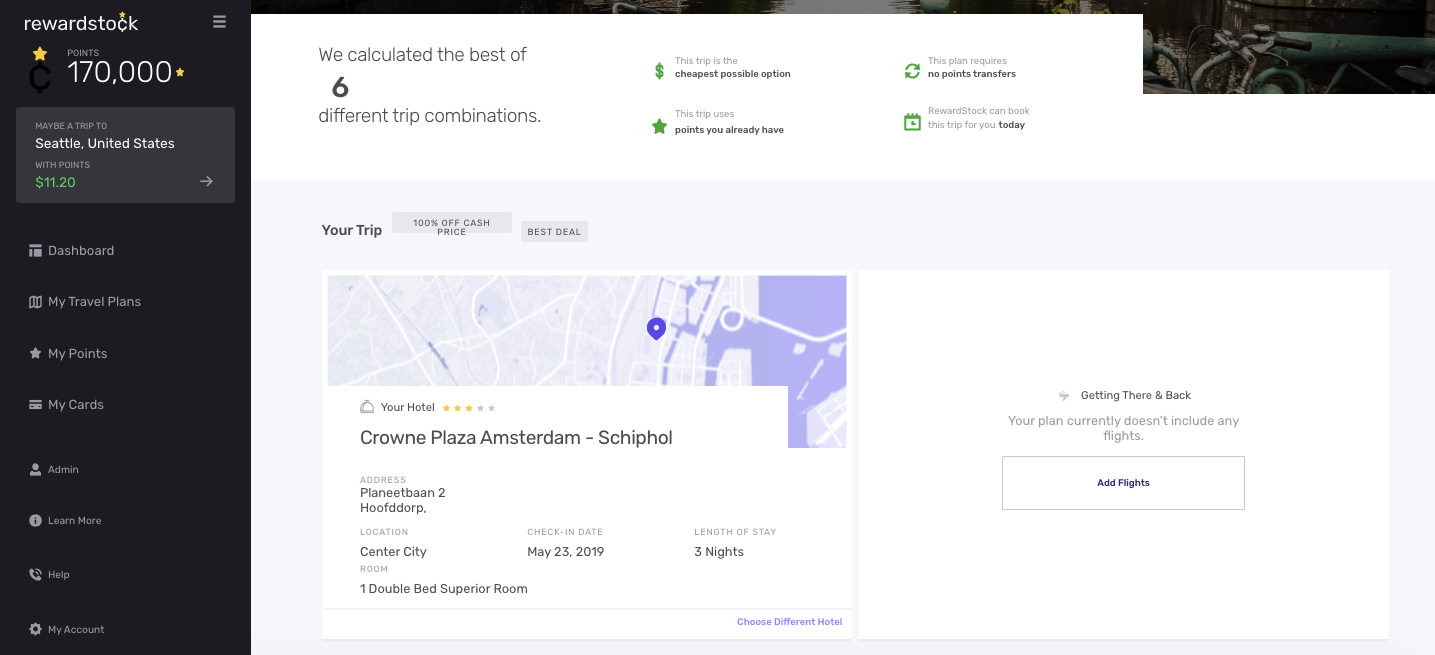 If you are not satisfied with the selected itinerary, click 'Choose Different Hotel' to review additional options.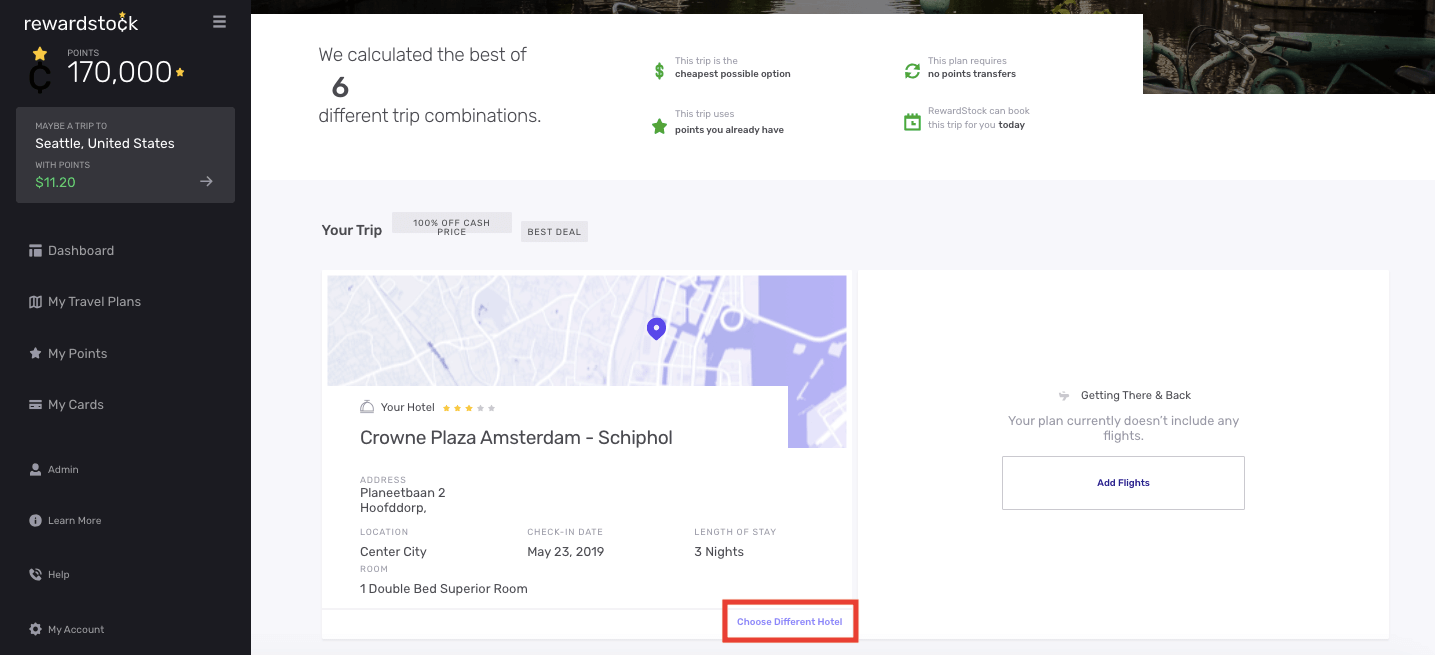 If you want to choose different dates, just start a new search.
STEP 5: SELECT 'BOOK NOW' OR 'CREATE PLAN'
Select 'Book Now' to book the itinerary as is. Follow this guide to booking hotels with RewardStock.
Select 'Save Plan' to continue earning points or come back to this plan at a later time. If you do not have enough points yet, RewardStock provides a strategic earning plans to save more money on this trip.
SAVE TRAVEL PLANS
The itinerary for your trip to Amsterdam will be saved under 'My Travel Plans' if you selected 'Save Plan.'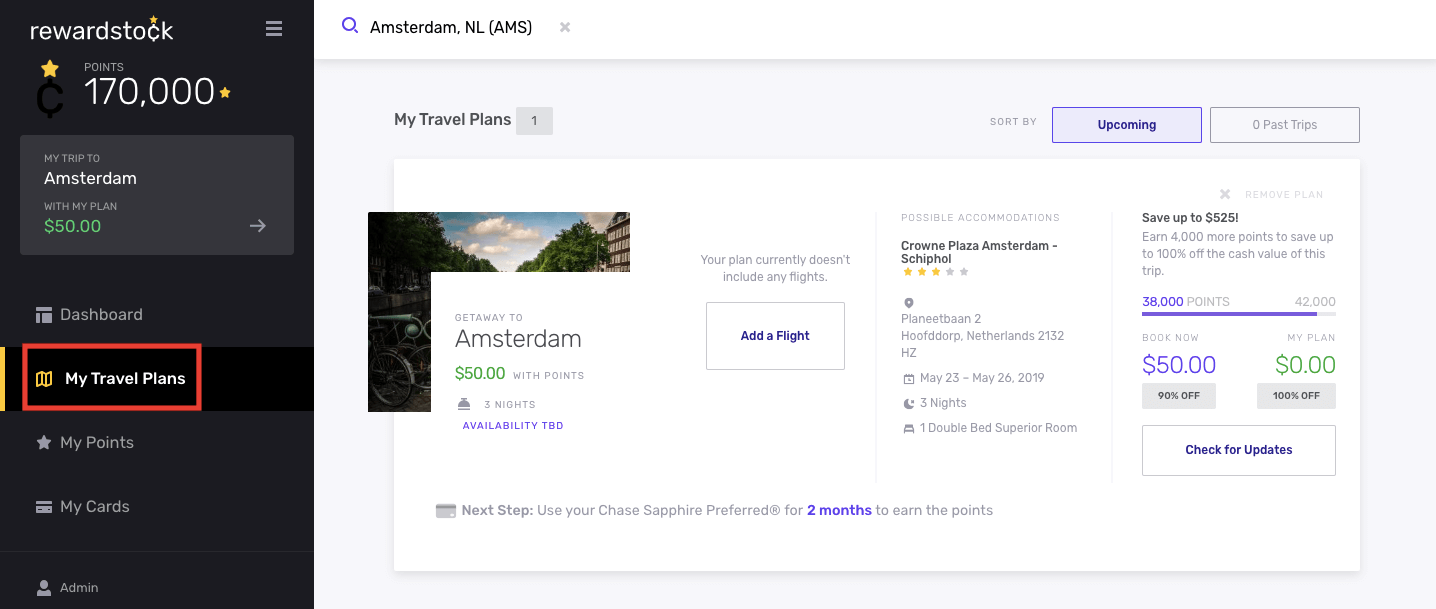 NEXT STEP
The next step in this plan is to apply for the recommended credit card or continue your budgeted, monthly spending on a card that is already in your wallet. The personalized recommendation is made under 'My Travel Plans.'
Note: credit card offers change all the time. This is an example. Please complete a search to get the best recommendation for you based on your portfolio and our current offers.
CHECK FOR UPDATES
After you've earned the rest of the points, go back to 'My Travel Plans' and select 'Check for Updates' to re-run the search and update availability. It is possible that availability and pricing have changed since the last time you searched. Unfortunately, we do not control availability.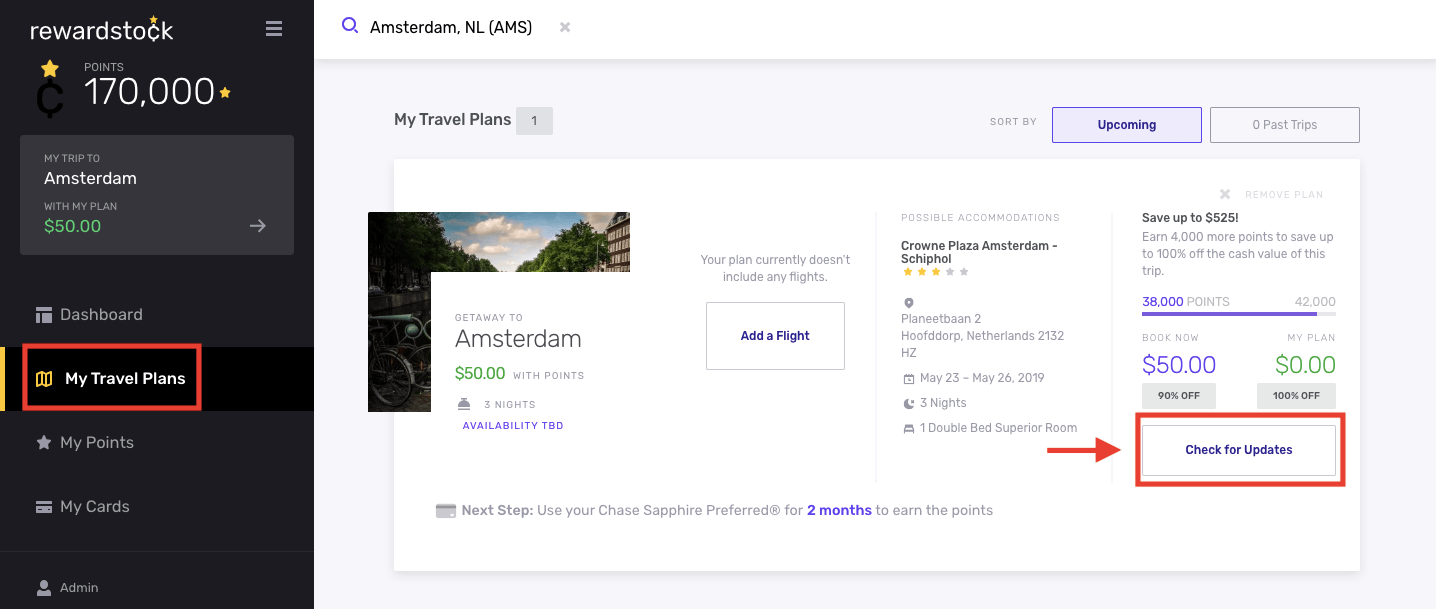 Have questions about your results? Please send us an email at hello@rewardstock.com.