Where's your dream vacation? Relaxing on a tropical beach? Hiking snowy mountain tops? Exploring a bustling city? For RewardStock members Leah and John, they have always dreamed about going to Europe.

You may remember this traveling duo from their trip to Hawaii last year. Leah and John celebrated their retirement in paradise and saved $4,200 with points. This year, they decided to finally take that European river cruise they have always dreamt about.
The Plan
After taking a few domestic trips with points, they were ready to start planning their next big trip.
The fastest way to earn travel reward points is through credit card sign-up bonuses. Leah and John each got 3 travel reward cards. RewardStock created a strategy that would help them earn points in programs that work together to achieve their travel goals.
In 12 months, they earned enough points to book business class flights to Prague and home from Budapest and 2 hotel nights in each location.
Leah and John paid $186 + 255,000 point for their business class flights to Prague and home from Budapest. That's 99% off the cash cost of these flights. Oh, and they stayed a few nights before and after the cruise in each city and paid $0, too. Not too bad!

They warned us when they got back from Hawaii that they had caught the travel bug. We loved helping make dream vacation became a reality – in business class! See what they have to say about working with RewardStock.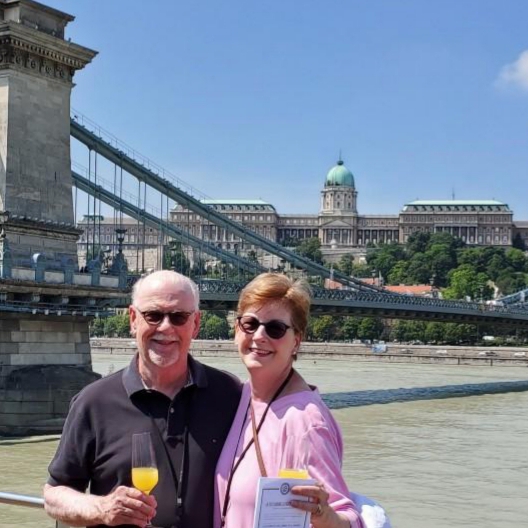 Köszönöm (thank you Hungarian style) to Rewardstock.com for making a dream come true for us! We just returned from a magnificent 13 day trip from Prague to Budapest! RewardStock saved us over $20,000 in hotel and business class flights! The team expertly and patiently guided us to maximize our points with both our airlines and hotels. They also provided excellent recommendations for travel safety and guidelines in and around the airports. We have never flown first or business class and because of RewardStock, we were able to experience both. Our hotels were 5-star and centrally located within the "old town" areas of the cities we visited so we could easily experience the surrounding beauty, food, drinks, cultures and people throughout! Thank you RewardStock for making our first European Vacation one to remember and treasure forever!

– Leah & John
Trip Details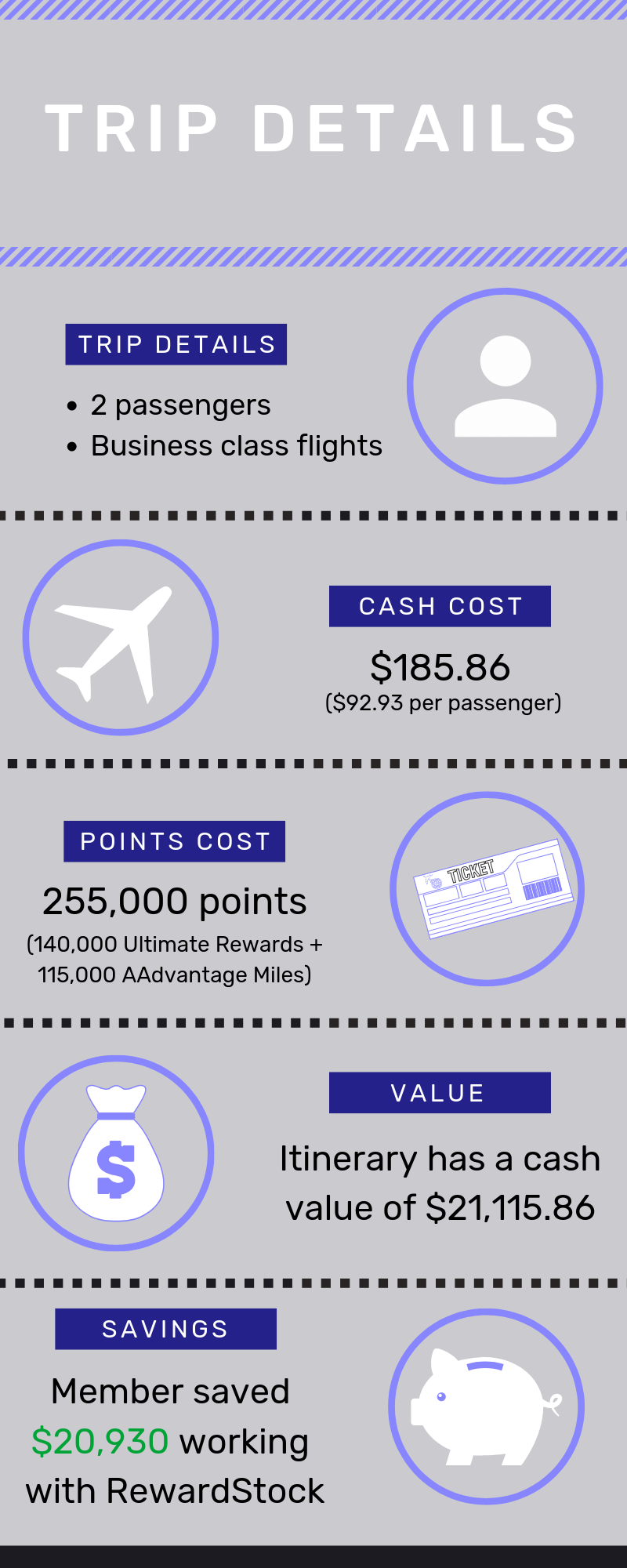 Travel Reward Tips
Traveling in business class has many perks. From priority check-in and boarding to roomy seats and fine dining on-board, you will definitely be traveling in style.

Did you know that your business class ticket also unlocks access to airport lounges? It does! Before take-off, you can relax in luxury on the ground. It's important to note that lounge access and amenities vary based on the airline and airport. We'll breakdown the lounges Leah and John had access to flying business class on their trip..

On their way to Prague, Leah and John flew business class on Austrian Air, which is a member of the Star Alliance. So that means, they had access to all of the Star Alliance lounges in JFK (New York) and VIE (Vienna) during their layovers.

Leah and John's return flight was in business class on American Airlines. Which means, they had access to AA lounges in PHL (Philadelphia) during their layover.

Need help figuring out which lounges are available for your trip? Our points experts use and recommend downloading the Lounge Buddy app to see what lounges you have access to, how to access, locations, etc.

If you're not flying business class, the cards in your wallet can also open the door to airport lounges. Leah and John both have the Chase Sapphire Reserve® credit card. One benefit of this card is access to Priority Pass lounges around the globe.

You may want to get to the airport earlier than usual to enjoy all the lounge amenities!

Dream Come True with RewardStock
In their wildest dreams, Leah and John couldn't imagine flying business class to Europe – never mind flying business class to Europe for $93 each. But, they did.

This June, Leah and John spent 13 days traveling through Prague and Budapest on an unforgettable river cruise. Working with RewardStock, they were able to pay for their flights and hotels with points. Saving 99% off of the cash cost of their itinerary. That's what we like to hear!

We love helping our members achieve their travel goals. Whether you're looking for a weekend getaway or two weeks in Europe, we can help you go there with points! Now's the perfect time to get started earning points for you next trip.